Nature and Culture in the Management of Internationally Designated Wetlands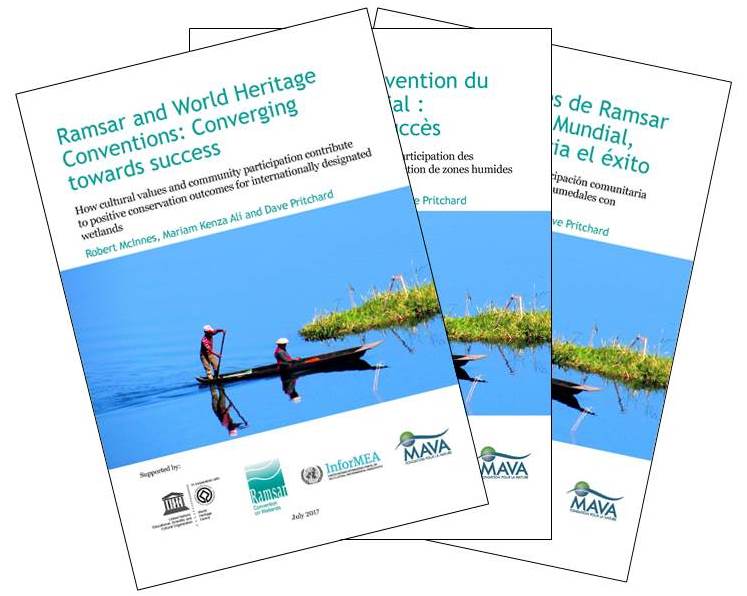 The report World Heritage and Ramsar Conventions: Converging Towards Success examines how people's cultural values and community participation contribute to positive conservation outcomes in exceptional wetland areas with dual World Heritage and Ramsar status.

Source: Ramsar
Six case studies from around the world illustrate the challenges – and successes – of integrating both nature and culture in the management of internationally designated wetlands. The case studies consider the Okavango Delta (Botswana), Mont-Saint-Michel (France), Wood Buffalo (Canada), Banc d'Arguin (Mauritania), Sian Ka'an (Mexico) and Itsukushima Shinto Shrine (Japan).
The findings from these outstanding wetlands are intended to support both site managers and broader policy-makers in making the most of the powerful role that cultural values and community participation can play in wetland conservation and wise use.
The World Heritage Convention and the Ramsar Convention on Wetlands are the only two global intergovernmental agreements with a strong site-based focus. For nearly 45 years they have collaborated towards the goal of conserving our outstanding natural and cultural areas for future generations.
Many of the world's great civilisations, including Ancient Egypt in Africa, the Aztec Empire in Mesoamerica and the Indus Valley civilisation in South Asia, arose around wetlands. Today, most of the world's biodiversity is located in traditional lands and waters. For this reason, indigenous peoples and local communities continue to play a central role in the conservation and wise use of wetlands, which provide our drinking water and are key to achieving the 2030 Sustainable Development Goals, including on water, food security, climate change and poverty alleviation.
The World Heritage and Ramsar Conventions: Converging Towards Success report concludes that dual designation as a World Heritage property and a Ramsar Site can deliver benefits, for example by increasing resilience to a range of challenges, external pressures and threats.
This is an important benefit as the latest figures show that 64% of the world's wetlands have disappeared in the last century, and that every year we lose 1% of those remaining. These and other 'Lessons Learned' build on the recommendations of the study on Managing Multi-Internationally Designated Areas (Schaaf and Clamote Rodrigues, 2016), including Ramsar Sites, World Heritage properties, Biosphere Reserves and UNESCO Global Geoparks.
This report was prepared in collaboration with the UNESCO World Heritage Centre, and with the support of the Ramsar Culture Network (RCN) and the Ramsar Convention's Programme on communication, capacity building, education, participation and awareness (CEPA). It is generously supported by the MAVA Foundation, and the InforMEA project of UNEP's MEA Information and Knowledge Management Initiative.
The report is available in the three Convention languages (English, French and Spanish) and can be downloaded from the Ramsar website, at: http://www.ramsar.org/document/ramsar-and-world-heritage-conventions-converging-towards-success.
Source: Ramsar