A New Tool for Wetland Management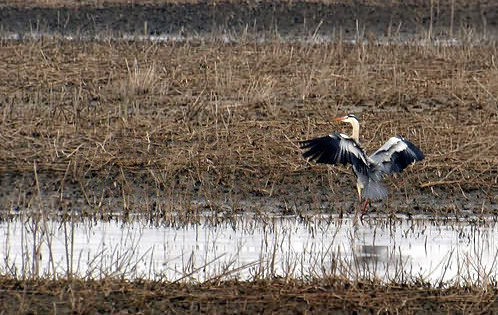 A computer model can help wetland managers increase the size of migratory bird habitat and combat invasive vegetation using existing resources.
With shrinking water supplies and invasive vegetation, effectively managing these wetlands is becoming increasingly difficult.
That's why researchers at Utah State University have developed a new tool to help wetland managers create healthier, more productive wetlands and make them easier to manage.
Researchers from Utah, USU, developed a computer model that produced two key findings: first, to more dramatically alter water levels in individual diked wetland units and, second, to focus efforts on invasive plant control at a specific time of year. The study was published in Water Resources Research.
The team collaborated with managers and biologists and applied the computer model at the Bear River Migratory Bird Refuge, the largest freshwater component of the Great Salt Lake ecosystem.
The Refuge is recognized internationally as an important feeding, resting and breeding ground for millions of migratory birds on the Pacific and Central Flyways.
Study co-author David Rosenberg, an associate professor of civil and environmental engineering at USU, says if refuge managers implement the model's recommendations, they could nearly double the area of productive wetland habitat using existing resources.
"We found that more dynamically altering the water levels in wetland units at the refuge improves habitat for migratory birds," said Rosenberg. Omar Alminagorta, a former postdoctoral associate at the Utah Water Research Lab and USU Associate Professor Karin M. Kettenring, a wetland ecologist, co-authored the study.
Rosenberg says adjusting water levels within wetland units more frequently also better corresponds to historical hydrologic conditions.
The model also suggests focusing efforts to control invasive vegetation -- particularly for phragmites, a widespread invasive grass -- in late summer rather than early fall. These two changes, he explains, could significantly increase the habitat area for priority migratory bird species that use the refuge.
Source: Science Daily